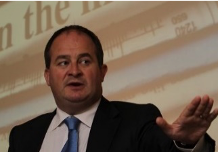 Leveraging hundreds of C-Suite and leadership contacts across business, policy making and media, Octavian's Economics Advisory and Public Affairs capacity also benefits from our Founder Marc Coleman's background:
Achieving outstanding commercial success as Director of Financial Services Ireland, achieving excellent revenue growth, event management and industry representation results at national and EU level
As a leading author of books promoting Ireland's recovery and prosperity and is the author of the first book on Ireland's recovery from the Covid-19 crisis, to be published here shortly [link]:
Designed and delivered excellent international multilingual business engagement strategies, hosting events and policy influencing engagements at Ministerial, Ambassador and CEO level in several languages
Initiated and spearheaded vital policy representation processes, initiating Ireland's first Brexit Working Group as early as 2015 and securing City of London endorsement for Ireland as a post-Brexit location of choice.
Entrusted by government in 2015 as the very first Ministerial appointed Secretariat to the first IFS 2020 Industry Advisory Group which influenced the growth of International Finance Service employment by 10,000 in the last 5 years
Pioneered the FinTech agenda, coordinating the production of the key report "A Fintech Strategy for Ireland" in 2017.
Assisted key government agencies in change management.
Holds a scholarship MBA from one of Europe's most prestigious business schools.
Holds over decade experience in the European Central Bank and Irish Department of Finance.
Has served as Irish Times Economics Editor and been an influential broadcaster and columnist with Newstalk and the Sunday Independent, respectively
Marc Coleman is an acclaimed economic author, award winning broadcaster, leading consultant and former senior manager with Ibec.
He pioneered accessible forward looking comment on the economy between 2005 and 2015, initiating the "Confidence in Media" event in 2010 with then Finance Minister Brian Lenihan and leading Media CEOs and commentators to shift Ireland's media narrative away from relentless negativity and towards positivity.
Between 2008 and 2014 he promoted Ireland's economic reputation abroad – countering sensationalist coverage of Ireland's crisis – by giving speeches in Germany, US, Poland, UK and elsewhere.
In 2013 he hosted high profile seminars on Ireland's banking and fiscal crises.
In 2014 he made the case to senior ECB economists for debt relief on Ireland's IMF debt.
In 2015 he became Director of Financial Services Ireland – part of Ireland's largest business representative body Ibec – and in that capacity established, in 2015, the first Working Group to identify and the challenges of Brexit for the financial services industry. He oversaw strong growth in FSI's membership and pioneered
FinTech and Aviation industry representation.
He has pioneered Ibec's global commercial outreach and hosted multinlingual events. He is designated champion of foreign language use in business (Dept Education)
Previous books by the author
Published in 2007"The Best is Yet to Come"and praised by TK Whitaker, Peter Sutherland and others, this book predicted the imminent crisis but also the ensuing rapid recovery and  population growth and called on government to invest ahead of time in housing and to improve spatial and urban planning.
Published in 2009"Back from the Brink" and praised by current Taoiseach Leo Varadkar T.D. NCC chairman Prof Don Thornhill and others this book advocated policies that helped Ireland's economy including the agreement of FF and FG collaboration and restoring competitiveness and stability.
Published in 2013(with the German Irish Chamber) "Ireland and Germany Partners in European Recovery" contained contributions from An Taoiseach, NTMA CEO, Central Bank Deputy Governor and the IMF and DPER detailing progress towards recovery. It was launched in Dublin by Ireland's Finance Minister and in Berlin by Angela Merkel's economic advisor.
Published in 2014 (with Asia Matters) "Unlocking Asia's Potential for Ireland"detailed Asia's potential to grow and diversify Ireland's exports and employment. Irish exports to Asia have doubled since then with a significant positive jobs impact. As a result, Ireland is now more prepared to withstand Brexit and Covid-19.